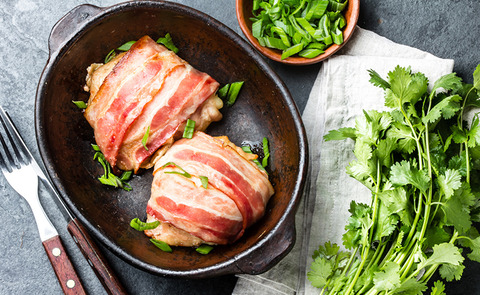 Hard to find someone who doesn't love bacon. It's still hard to find bacon recipes that don't result in an explosion of flavors that can liven up any bad day.
Probably of German origin, bacon, also known as bacon, is a versatile smoked pig that can be used in different types of recipes. Unlike what many people think, bacon is extremely nutritious, featuring a series of vitamins and minerals in its composition.
Check out some ideas for bacon recipes that will make your meal even tastier!
1. Bacon Sandwich:
Thinking about the weekend snack? The Bacon X Sandwich Could Be The Perfect Recipe! With the right ingredients, you can make a sandwich worthy of the best snack bars in your house. For this, you can use the Traditional Burger, which is made with 100% beef and selected. When choosing bacon, opt for Sliced ​​Bacon: it has standardized slices that have more flavor due to the longer curing time. Complete with fried egg, tomato and lettuce: simply irresistible!
2. Bacon and Pizza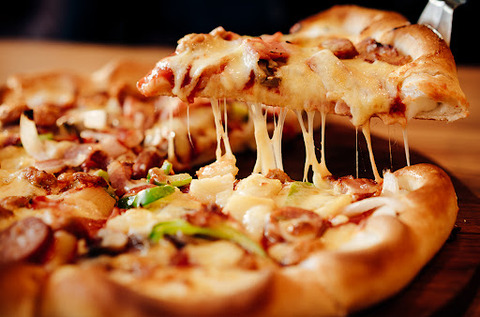 Balls This is a great snack that is easy and quick to make and features a very tasty dough made from natural whole yogurt combined with ingredients such as wheat flour, baking powder, salt, egg yolk and grated Parmesan cheese. For the filling, bet on mozzarella cheese, chopped bacon and tomato sauce.
3. Broccoli and Bacon Salad:
Bacon can also be synonymous with salad. It is, yes ma'am. He appears to give that extra charm to our favorite vegetables! And the coolest thing is that you can freely adapt the recipe according to what you have at home.
4. Cheese bread with bacon:
An ideal snack to accompany your favorite series, the cheese bread is even more special with a touch of bacon. The bacon fried in cubes must be added to the dough at the end of its preparation.
5. Grilled sandwich with cheddar, bacon and guacamole:


This wonderfully beautiful sandwich uses incredible ingredients like bacon, cheddar and guacamole and is perfect for you to indulge in a fancy afternoon snack. Among the ingredients, there are also brown sugar, avocado, tomato, sriracha pepper sauce, butter, cream cheese, salt and black pepper.
6. Bacon Recipes with Chicken and Avocado Sandwich:
This recipe is an example that a good sandwich can be very nutritious, as it is tasty and has ingredients such as ciabatta bread with parmesan, avocado paste, organic grilled chicken, bacon and tomatoes. They are strong flavors, but they don't fight each other and complement each other perfectly.
7. Scrambled eggs with bacon and cheese:
There are days when we deserve a special breakfast. The ones from the hotel, you know? That's where this scrambled egg recipe comes in, which includes bacon and cheese because we're not kidding. The recipe takes 3 eggs, 3 slices of bacon and serves 2 people.
8. Bacon sausage roll:about a bacon roll
Howin which the dough that surrounds the sausage is actually a crispy slice of bacon? Guaranteed success among everyone who loves a good snack, this recipe is quick to make and goes with a cold beer.
9. Baked potato with egg and bacon:
This simple to prepare potato can be a great snack or quick meal option, as you just roll it in aluminum foil and put it to bake in the oven and then spice it up with ingredients of your choice, such as butter, weeds, eggs, cheese and bacon.
10. Tomato Mix Salad with Bacon Crispy:
This is a tasty and refreshing bacon recipe perfect for a lighter dinner, featuring tomatoes of three different colors (yellow, red and orange), cucumber pickles, mini arugula and bacon slices . To season, use olive oil, salt, balsamic aceto and fresh basil.
11. Cream corn soup with bacon:
This is a very tasty cream soup recipe and perfect to enjoy the corn cobs that you cooked but did not consume. Among the ingredients are chopped bacon, onion, oil, milk and salt to taste.
12. Bacon popcorn: a perfect snack!
Want to make the most elaborate popcorn for the series marathon? Add bacon! The quick recipe is very simple to make at home and is delicious! Write down: in a pan, melt the butter and then place the diced bacon. Let it cook for a few minutes, then add the corn. This way the bacon will be crispy and better penetrate the popcorn. You can further spice up the recipe with spicy or sweet paprika – if you like the sweet and sour taste!
13. Mayonnaise or bacon jelly spice up the hamburger
It's no wonder that x-bacon is one of Brazilians' favorite hamburgers! Combining meat and bacon strips in a brioche bun makes your mouth water, but the recipe can be made even more elaborate with a dash of creativity. How about making a quick bacon mayonnaise to spread on bread or dip in fries? One of the simplest ways to make mayonnaise is to blend the bacon with cold milk, salt and fat in a blender.
Bacon jelly, on the other hand, is perfect for those who love a sweet and sour taste, and it can also be spread on brioche bread to guarantee an eccentric taste.
14. Bacon:
PizzaPizza is already one of the best dishes in the world, but can you imagine an innovative homemade pizza recipe with bacon, mozzarella cheese, mini chives, oregano and black pepper filling? It is easy to make, extremely tasty and is sure to please every palate.


15. Creamy Baguette with Bacon and Onion:
In addition to being practical, easy to make and very tasty, this baguette with bacon and onion is super creamy and comes out of the oven melting, perfect for a fancy afternoon snack or even a meal. Write down the ingredients: cream cheese, oil, chopped bacon, onion, mozzarella, green scent, butter, salt and pepper.
16. Cheese and Bacon Waffle:
Anyone who has ever had a sweet waffle, that classic, will fall in love with this salty version. The high point is that cheese and bacon are incorporated into the dough, turning every bite into a sigh. Try basting your waffles with honey, maple syrup or fruit jellies. Inexplicable it was so good.
17. Milkshake with bacon crumbs:
5 scoops of cream ice cream, a shot of liqueur and… 2 slices of bacon. Yes, this is the purpose of this milkshake here. In addition to the unique taste, it is very easy to make. Just fry the bacon, mash it in a blender and then mix it with the ice cream and the liqueur. Will you face it?
18. Hot dog with cheddar and bacon:

If you're looking to get off the diet in style, these bacon recipes will definitely help you. It's a succulent hot dog with cheddar cream in the beer and crispy bacon on top, perfect for that super chubby dinner with friends over the weekend.
For those who can't do without a good creamy and tasty soup to heat up on cold days, this is an amazing recipe that uses corn, chopped bacon, milk, cream, salt and pepper to taste. To decorate and add a special touch, add parsley, more corn and more bacon.
20. Pea cream and bacon:
To live well with the winter chill, nothing better than warm and comforting dishes, such as this delicious pea cream with bacon, which can be even better when consumed with a good glass of wine. You will need onion, leeks, carrots, vegetable stock, dry white wine, salt and pepper.